The kitchen is the heart of any restaurant or food serving business. Because of this, effective kitchen design is essential to the success of your business.
Conversely, poorly designed kitchens create challenging working environments that can lead to a loss of productivity, impact morale and even disappoint your customers.
This article explores the key principles you should consider when designing a commercial kitchen.
Table of contents:
Commercial Kitchen Layout Design Overview
Establishing a practical kitchen layout is a vital element to the success of any restaurant or food serving business. Poorly implemented formats create challenging working environments that can lead to the loss of productivity and adversely impact your employees and customers.
There are five fundamentals that you should consider when optimising your professional kitchen.
Storage:

Establish the space and environments required to store food, equipment and utensils.

Food preparation:

The space required to prepare different types of food. Your requirements are likely to be influenced by your menu.

Cooking:

Practical equipment layout improves the efficiency of your BOH (back of house) teams and, as a result, service times.

Service:

the service area should allow easy handover and communication between the back-of-house and front-of-house teams.

Cleaning and Washing

: A defined space for plates, glasses and cutlery to be washed and cleaned ready for use.
Thorough planning is crucial for any type of business. A commercial kitchen is a significant investment. Therefore, it is essential to implement a practical kitchen layout on your first attempt. Avoid the additional costs of repairing a poorly designed kitchen.
Commercial kitchens are a significant investment. As a result, you will want to get the design right the first time to avoid the costs of correcting mistakes.
For example, you will need to establish space between equipment, furniture and doors while allowing room for your staff to move comfortably around their workstations.
Types of Commercial Kitchen Layouts
There are three popular types of configurations for commercial kitchen layouts. Establishing which is most appropriate for you will depend on the size of your kitchen and your needs.
Zone-style Layout
Zone-style layouts reflect their name. For example, the kitchen is laid out into zones to create workstations which can be assigned to specific tasks.
Zone layouts enable your back-of-house team to prepare different types of dishes simultaneously. In addition, effective zone layouts make it easy for BOH teams to move around each zone freely.
A Zone layout is a popular choice in larger kitchens. Zone layouts require adequate space between them to allow foot traffic.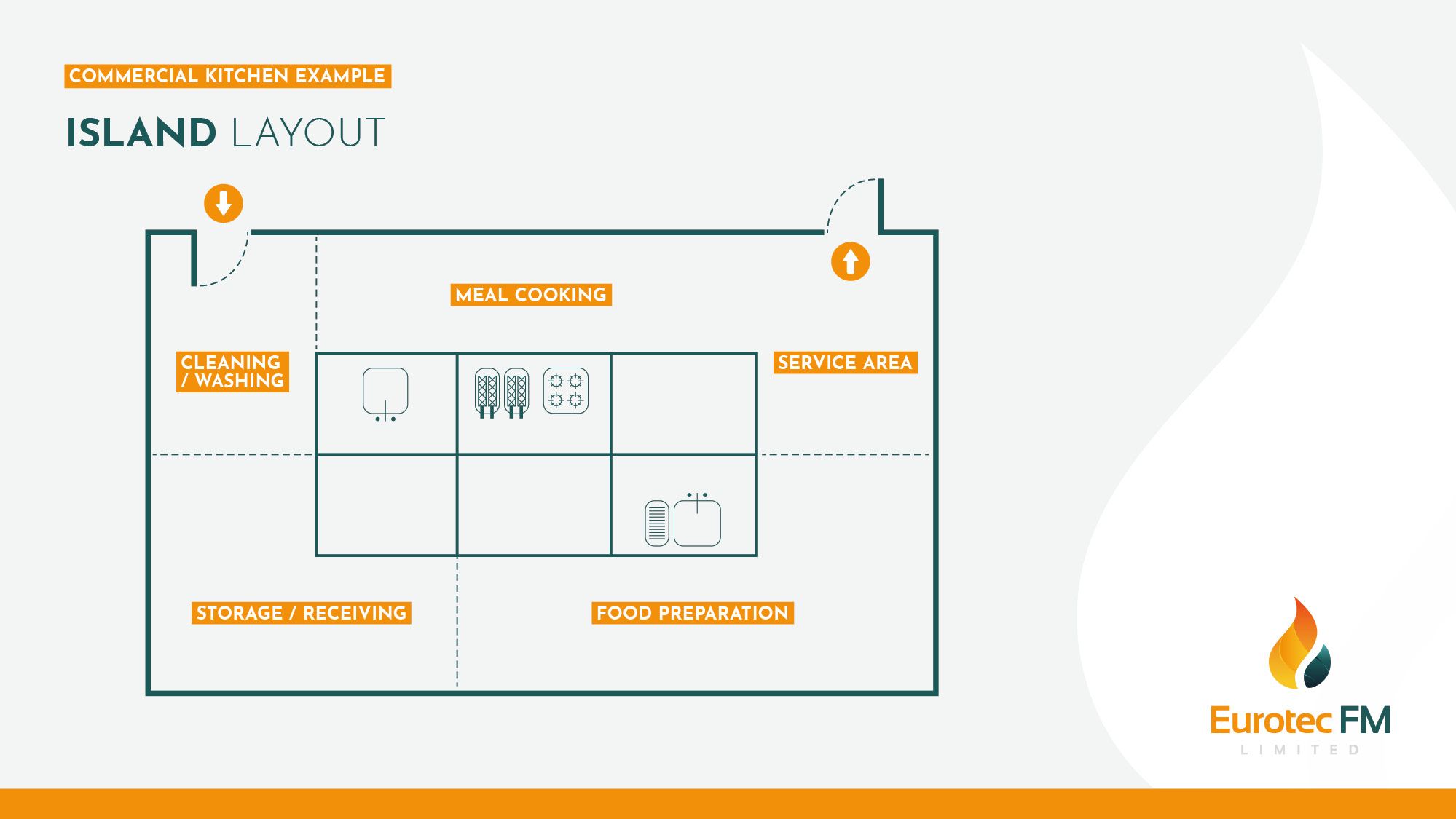 Island Layout
Another popular option for large commercial kitchens is the island layout. Island layouts feature one central island in the middle of the kitchen. The kitchen's perimeter is typically used for non-cooking stations, such as food prep and cleaning.
The central island is the feature of the kitchen. Most commercial kitchens use this space for cooking equipment, such as combi ovens, fryers and griddles.
Some commercial kitchens opt to reverse this layout, using the central island for non-cooking stations and the perimeter for cooking.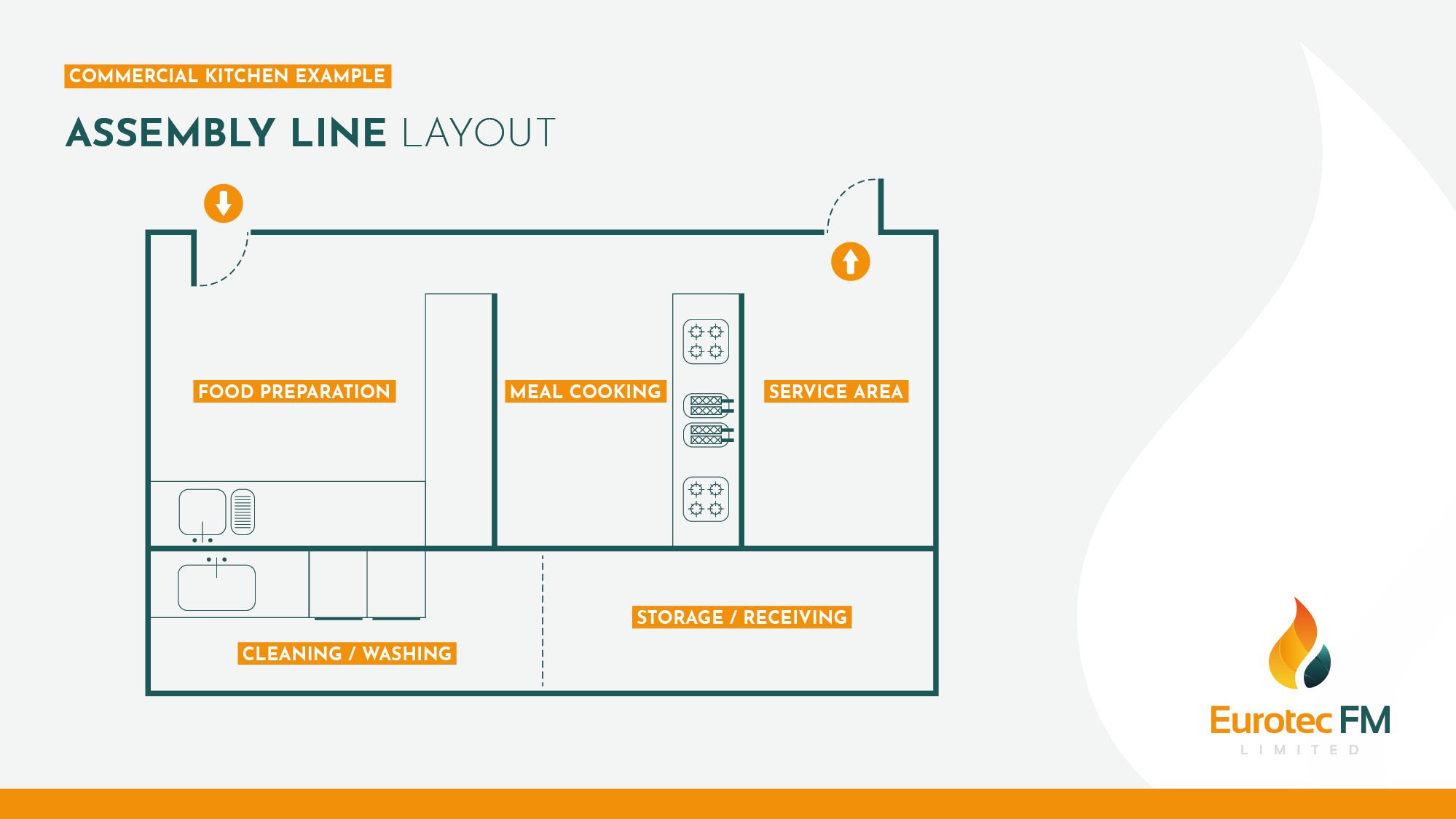 Assembly Line
An assembly line layout can increase productivity if your kitchen produces large volumes of a small range of dishes. As a result, assembly lines are popular amongst pizzerias and restaurants with a defined menu.
This layout enables multiple team members to work together, each focusing on a single task. In addition, the approach means that food preparation can flow seamlessly, creating a productive workflow.


Food Preparation
Food preparation areas should be positioned away from the main cooking areas and segregated into key processes. This helps to prevent cross-contamination and allows adequate space between food prep and cooking stations.
Larger kitchen spaces will use a single station for each food preparation type:
Vegetable

Raw fish and meat

Poultry

Prepared or ready cooked

Pastries and desserts
Facilities
Any business serving food must be clean and well maintained, following good food hygiene practices protecting against contamination and pests. These rules apply to the whole premises, not just food preparation areas.
Toilets and handwashing
You must ensure there are enough washbasins for staff to wash their hands. In addition, you must have hot and cold running water and suitable equipment for hand washing and drying.
Surfaces – Floors, walls and ceilings
Where food is prepared, floors and walls should be smooth and hard-wearing. Smooth surfaces are easier to maintain, clean and disinfect. Surfaces that aren't smooth will build up bacteria and be difficult to clean.
Doors and windows
Any openings should be designed to make cleaning and disinfecting easy, preventing dirt build-up. Any opening to the outdoor environment must be fitted with insect-proof screens to prevent pests from entering the kitchen. Additionally, the insect-proof screens must be easy to remove and clean.
You can find an extensive list of requirements by the Food Standards Agency – Setting up a food business.
Kitchen Flow Design
Professional commercial kitchen designers understand the importance of good kitchen flow. This refers to a seamless cooking process derived from good kitchen planning.
To create efficient kitchen flow you must consider each element of the food service process.
Goods in

Storage

Food preparation

Cooking

Food service

Dish return and cleaning
By understanding the food service process, you can plan your kitchen layout to accommodate each step, making movements more efficient and service faster.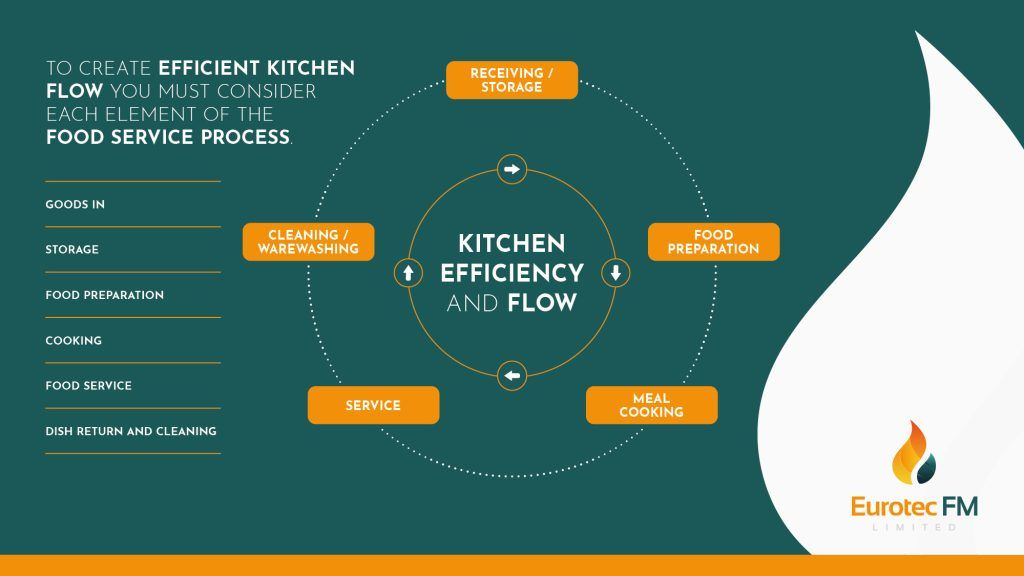 Food Storage
Efficient storage is required to ensure food is safe to consume and reduce waste.
To ensure food is stored correctly and safe for consumption, you should follow Food Standards Agency guidelines.
Dry Food
Dry foods such as rice, flour and pasta should be stored in a locked storage unit. Food should be kept in sealed containers or bags to prevent contamination and retain food safety.
Dry food should be stored in a suitable storage unit free of moisture.

Food should be stored on racks, away from the floor to discourage pests.

Don't store food in the same area as chemicals like cleaning products.

Some foods will require refrigeration after opening, so always check the manufacturers' labels.
Chilled Food
Fridge temperatures should be monitored using a fridge thermometer. The temperature should be 8˚C or below. Avoid overfilling your fridge, as air must circulate around the stored goods to maintain an adequate temperature throughout.
You can always free up space within your chiller by removing items that don't need to be chilled.
To keep your food store safely, you should follow the guidance below.
Food with a 'use by' date should be stored in a fridge along with cooked dishes, dairy products and salads.

When removing food from the fridge, it should be out of chill for the shortest time possible during food preparation.

Cooked food should be cooled at room temperature and placed within a fridge within one to two hours.

Follow storage instructions

Chilled food must not be outside of the chill for up to four hours. If food is left out of the chill for longer than this time it should be thrown away.
Frozen Food
Freezers prevent food from deteriorating and most bacteria can't develop in them. Frozen should be stored around -18c. Like fridges, freezers shouldn't be overfilled and must allow adequate airflow. Poor air circulation can lead to bacteria developing.
When receiving a delivery, frozen food should be stored in a freezer immediately.

Divide food into small portions inside containers before freezing.

When freezing fresh food, freeze it as soon as it has been prepared or delivered.
Defrosting
Food should be defrosted in a fridge to ensure a safe temperature is maintained through the defrost process.
You can also defrost food in a microwave with an appropriate 'defrost' setting.
Extraction Systems
Your extraction system is a crucial consideration for any commercial kitchen layout.
Effective extraction systems are a legal requirement in commercial kitchens. In addition, temperature control is essential to creating a safe and pleasant working environment for your employees.
Your extraction system is designed to remove hot air and bring in cool, clean air. Additionally, extraction systems remove cooking fumes at the source. As a result, the risk of carbon monoxide poisoning is significantly reduced.
The handy guide can learn more about commercial kitchen extraction regulations.
catering equipment
High-quality catering equipment is essential for a commercial kitchen. The size of your restaurant, budget and menu will dictate what equipment you need.
With energy prices continuing to rise, it is essential to seek energy-efficient cooking equipment to help reduce costs. Additionally, combi-ovens and efficient equipment will help speed up cooking times and improve service times.
You should position catering equipment to compliment the kitchen flow, creating a productive work environment.
Maintenance
Commercial kitchens must have robust maintenance plans to ensure cleanliness and keep pests out.
Structural damage makes cleaning harder and attracts dirt, debris and bacteria. Therefore, you must repair structural damage quickly to prevent dirt and bacteria build-up.
Extraction systems and filters should be cleaned and checked regularly to ensure they operate as intended. A build-up of grease can impair your extraction system, and as a result, carbon monoxide can build up.
Catering equipment should be regularly inspected and maintained. Poorly serviced equipment can lead to accidents and harmful food. Invest in regular preventative maintenance to ensure your cooking and refrigeration systems work as intended and increase longevity.
If you suspect that your catering equipment isn't working correctly, you must have it checked immediately. You should use alternative equipment until you have your commercial kitchen equipment repaired.
Did you find this article useful?
Use the links below to quickly share this article with your friends and colleagues.
Ready to start your next project? Get in touch with one of our experts