COMMERCIAL KITCHEN DESIGN AND INSTALLATION
The leading provider of Commercial Kitchen Design and Installation services in Essex.
COMMERCIAL KITCHEN DESIGN IN ESSEX
Bespoke Kitchen Design For the food service industry
Eurotec FM is a leading Commercial Kitchen Design and Installation expert based in Essex. No matter your budget, we understand the challenges of designing a commercial kitchen right for your business.
Here at Eurotec FM, we specialise in guiding our clients through the entire design process. From the initial consultation to conceptual design and project handover, we are on hand to help.
Whether you're a business owner, architect or corporate client, procuring a new commercial kitchen can be daunting. Eurotec FM can cater to any size of project. We have a first-class design team backed up by administrative support, project managers and installation engineers. All of them have a wealth of experience within the catering industry.
Bespoke Design and Installation
CONSULTATION
Every new kitchen scheme starts with an initial consultation. We consider everything from the menu, site restrictions, and budget to kitchen flow, space, and storage. After this, we create a design and present our recommendations using CAD and 3D layouts. These visual concepts help our clients to see how their new kitchen will look and feel once installed.
It is essential to take time at this stage and consider the finer details.
We pride ourselves on exceeding our client's requirements, meeting their specifications and delivering a perfect professional kitchen. Our experienced team have worked with businesses ranging from small cafes to large restaurant.
DESIGN. MANUFACTURE AND SUPPLY
Bespoke stainless steel fittings are a must-have in any kitchen design, from simple solid stainless steel wall shelves to complicated high specification server counters. Our team can design, manufacture, and supply all of your fixtures and fittings, whether your kitchen is new or refurbished.
Using the best quality stainless steel that provides a superior finish, we offer quality bespoke or modular items perfect for any commercial kitchen. Furthermore, our engineers can design and manufacture fittings to meet your kitchen's niche requirements.
Some of the fittings we can supply include:
standard stainless steel sinks

tables

shelving

wall cladding

canopies

filtration systems

bar equipment and much more.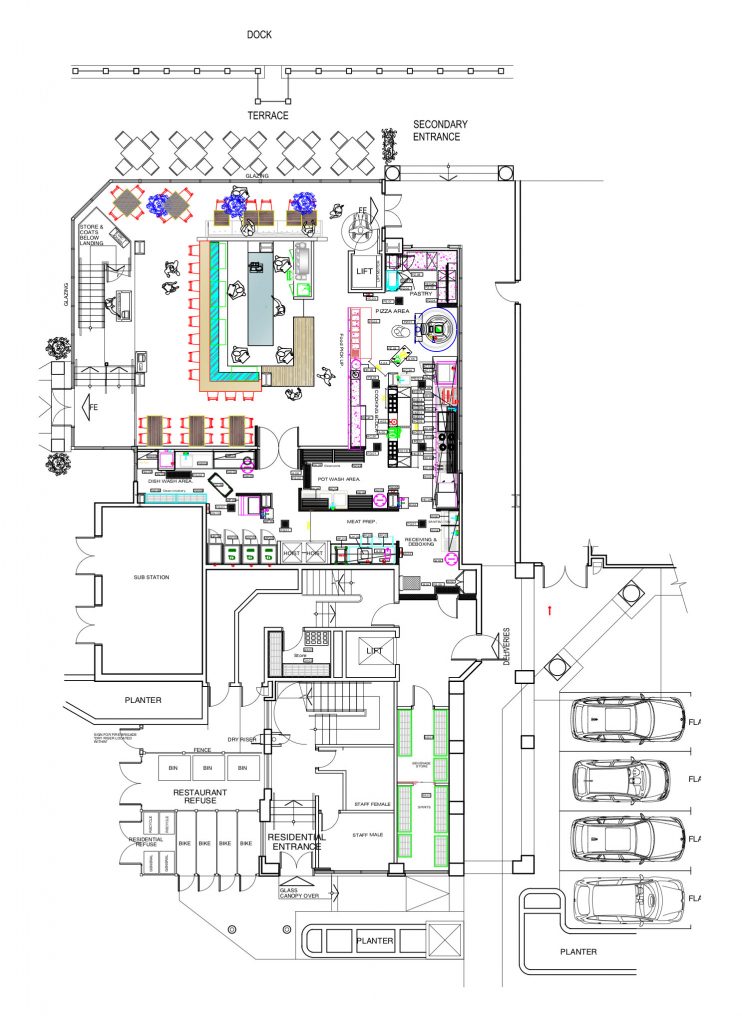 KITCHEN FLOW AND LAYOUT
An essential aspect of commercial kitchen design is traffic flow and floor plans. Consider, how many people will be working in your kitchen? Where is the optimum place for your front-of-house staff to enter? You must strategically place each kitchen component to make life easier for kitchen staff, meaning they can operate efficiently.
Consider the food service process:
Goods Delivery

Food Storage (Frozen, Cool, Ambient)

Food Assembly Line Layout

Food Preparation Areas

Cooking Station

Food Service Area

Used and Dirty Dishes Return

Cleaning Station

and of course, Front of House
Our experienced team will help you create a kitchen that works efficiently, save crucial cooking and serving time, and adhere to food safety regulations. We are proud to have helped hundreds of businesses across Essex to begin and improve their foodservice business.
COMMERCIAL KITCHEN INSTALLATION
PROFESSIONAL COMMERCIAL KITCHEN INSTALLATION

Our professional kitchen have worked with a wide range of commercial clients. From bars and restaurant kitchens, to schools and care homes, our team are on hand to help. Every installation project is unique, that's why we take a tailored approach to every install. We take care of every aspect, from catering equipment to fabrication. Our aim is to make your new kitchen installation or refurb, as simple and straightforward as possible.
COMMERCIAL EXTRACTION SYSTEMS
TEMPERATURE CONTROL
Adequate kitchen ventilation isn't only essential to keep your employees and customers happy; it's also a legal requirement. Extraction and ventilation systems expel harmful gasses and hot air, providing a safe and comfortable environment. At Eurotec we have extensive experience in the design, planning and installation of commercial kitchen extraction systems. Speak to us about your next project.
WHAT OUR CLIENTS SAY ABOUT US
We are always pleased to receive feedback from our clients. Their feedback is invaluable, helping us to continuously improve our services.
We were very impressed with their design and support. We were all very pleased with the end result!
I have used Eurotec FM for all of our kitchen work for a number of years. They're always prepared to go that extra mile.
Keith Humphreys
Academy Catering Services
I was really impressed with the service we received from Eurotec. They gave use a lot of guidance and support throughout the design and took care of the complete install. Thank you so much!
Ready to start your next project? Get in touch with one of our experts