A GUIDE TO BUYING COMMERCIAL OVENS
A commercial oven is the most essential item in your kitchen. Make the right choice with Eurotec's guide to buying commercial ovens. Start by selecting the best energy source for your kitchen. Then, browse through multiple styles and oven models.
Choose from general, well-rounded performance to specialised appliances.
An introduction to commercial ovens
A commercial oven is arguably the most essential item in your professional kitchen.
This vital kitchen appliance helps to cook food evenly, quickly and efficiently.
Achieve high-quality, flavoursome food and cook multiple dishes at once without compromising taste or texture.
You can choose to invest in various types of commercial ovens.
This depends on your speciality. For example, if you own a pizza restaurant, you will look for a commercial pizza oven that can guarantee crisp, flavoursome pizza bases every time.
However, if you operate a hot 'while-you-wait service', you may wish to invest in a high-speed oven to keep your customers happy. You can produce high-quality results in a fraction of the time.
Our buying guide will help point you in the right direction.
Gas or electricity?
Before you proceed, it is important to determine the primary energy source for your oven. The majority of ovens consist of the same components, so you can achieve the same functionality with gas, electricity or both.
The energy source you choose will affect the performance cost. Although running a solely electric oven can cost more, this should not be the deciding factor. Energy prices change regularly, without warning. The more critical factor is achieving the finished result effectively with your selected energy type.
For example, traditionally, it is easier to accomplish accurate, precise results with a gas oven. Natural gas temperatures are simple to gauge as you can see the actual flame in front of you. Any temperature changes are always quick to take effect, meaning you can seamlessly switch between simmering and boiling point.
Nevertheless, gas has its weaknesses. It can be a little less reliable than its electrical counterpart. If the gas hobs are not well maintained, this can lead to uneven heat distribution resulting in under or overcooked food.
It is easy to achieve consistent heat levels across an electric hob, provided they are all set to the same temperature level. Additionally, they are much easier to clean and always fitted with a fan inside the oven cavity to better circulate hot air.
A popular solution for many is a combination of the two, dual-fuel. Get the best of both worlds with fine-tuned temperature control and high cooking speed with a clean, balanced fan-assisted electric oven.
Types of oven
Commercial ovens come in all shapes and sizes, often tailored to a specific cooking process. Therefore, it is a good idea to consider the key purpose of your oven, accessibility, space and if it will remain suitable as your business expands.
Our oven range is extensive and professional. Eurotec stock and install ovens with unique measurements that are perfect for bespoke commercial kitchen fittings. It is worth thinking about how your oven will fit alongside your other equipment.
Designing the most efficient, practical kitchen layout can be challenging. We can support your journey from start to finish with our project management service. In addition, we work with a highly skilled team of builders who will consider every feature of your commercial kitchen and bring your ideas together into reality.
Range Cooker
The professional range cooker largest type of oven available

Huge storage capacity

Cook various types of food, from roasted meats to delicate pastry

Great countertop space for open gas burners or electric hobs

Cook multiple dishes simultaneously

Save space and money – no need to invest in separate appliances

Transfer pans effortlessly between the hob and oven cavity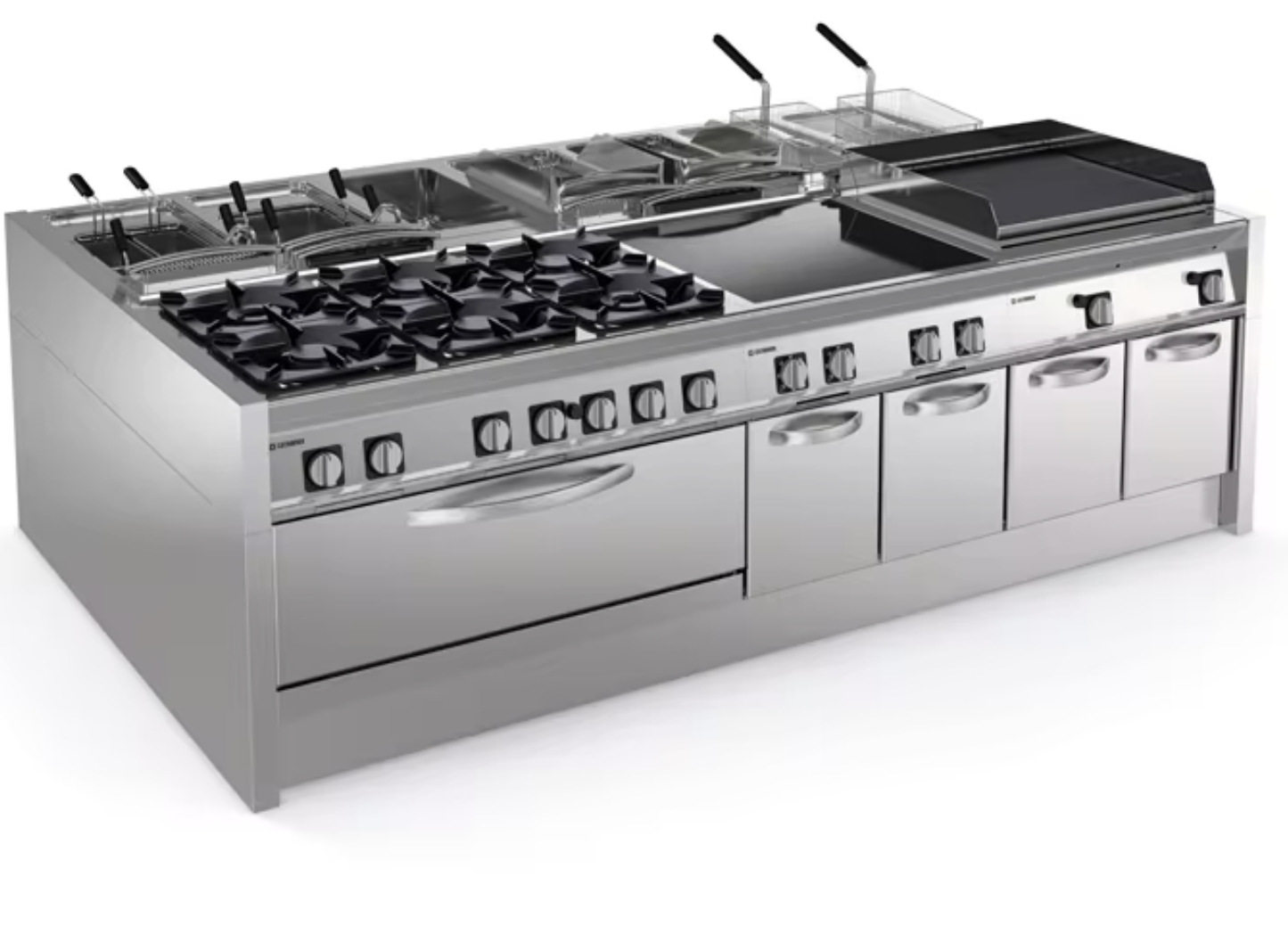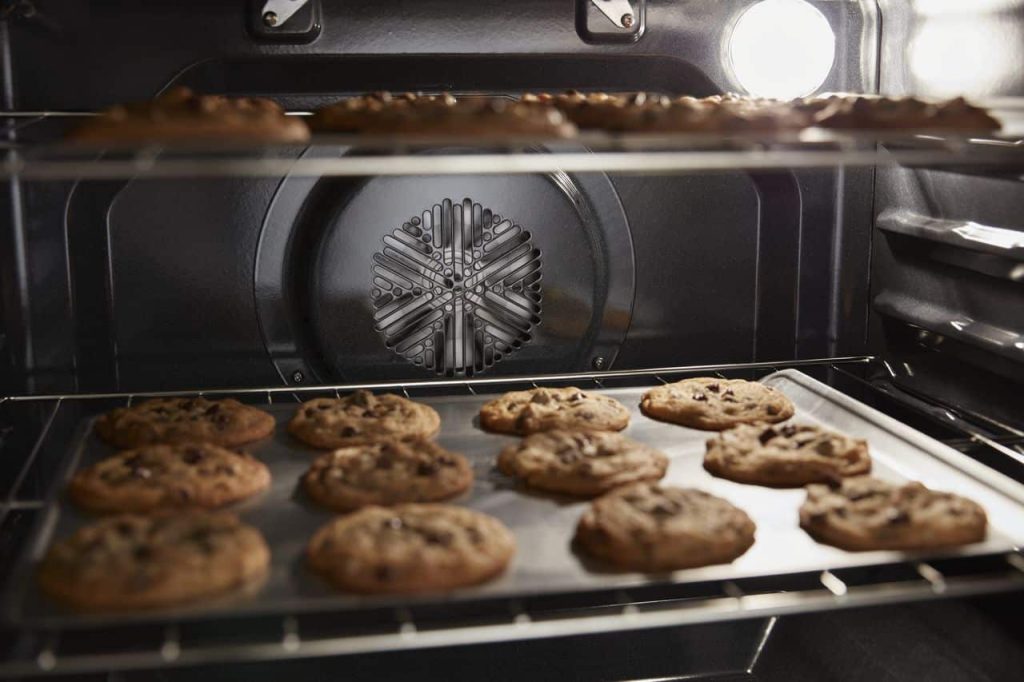 Convection Oven
Similar features to the range cooker in a compact size

Fitted with an internal fan to aid even heat distribution

Fan heat can reduce cooking times by up to 25%

Less meat shrinkage & better browning

Efficient models can run from a single plug socket
Combination Oven
Also known as combi ovens

These types of ovens combine both steam and convection cooking processes

Accomplish braising, roasting, frying, stewing and more

Save space by avoiding bulky appliances

Both manual and programmable settings are available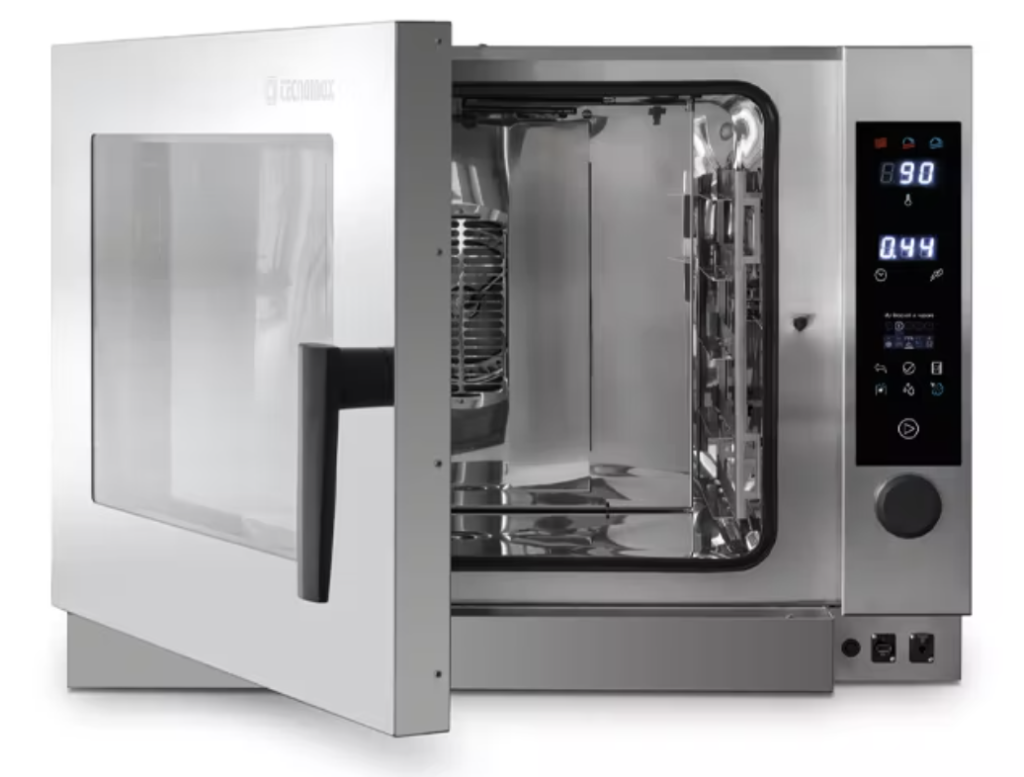 High-Speed Oven
Ideal for super-fast, convenient cooking

Achieve high-quality results in a fraction of the time

These ovens cook up to 20 times quicker

Perfect for 'while you wait' businesses, e.g. hot sandwich cafes

Extremely versatile, it can cook almost any type of ingredient in a high-speed oven
Steam Oven
Great for cooking vegetables, rice or fish

Cook multiple ingredients simultaneously

Retain food nutrients and reduce shrinkage

Low chance of flavour transfer – cook various dishes in the same batch

Lock-in vitamins, moisture and flavour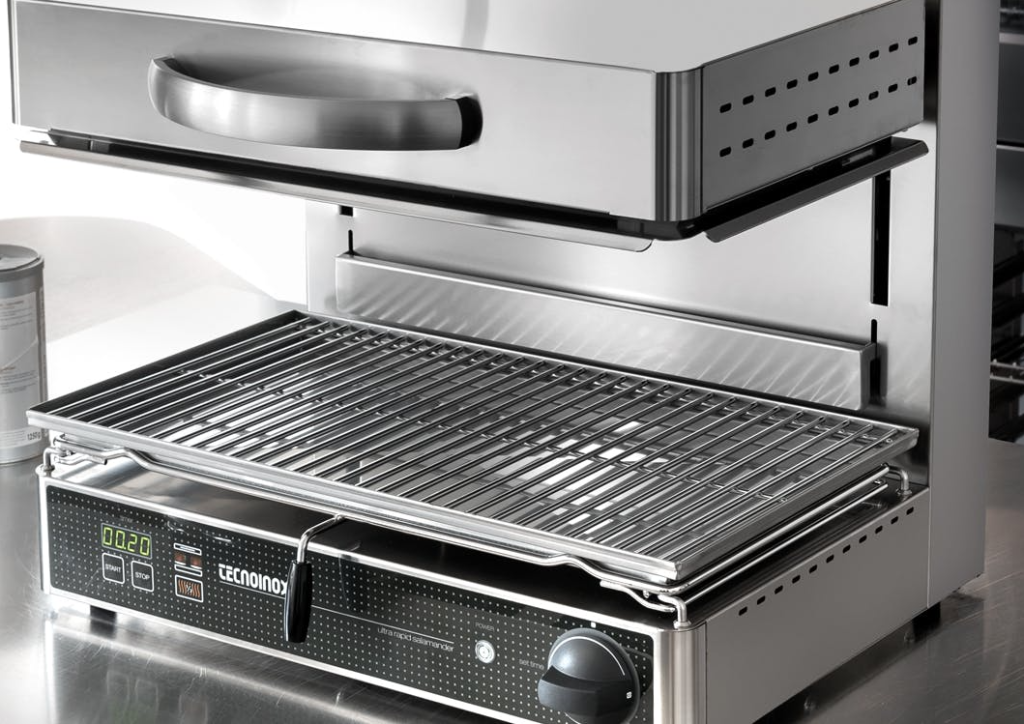 Salamander Grill Oven
Accomplish a crisp, brown finish to your dish

Highly adaptable kitchen grill

You may use this to cook the entire dish or simply crisp the top and edges

Easily positionable at eye level to save kitchen space & allow the chef to monitor the process

Cook safely at high temperatures

Achieve quick results with a reduced amount of grease

Select a gentle heat option to hold hot dishes temporarily before serving
Pizza/Conveyor Oven
Utilise a conveyor belt to pull food past the powerful cooking elements

Cook pizzas, burritos, pies and more

If ingredients can fit through the 3-5" opening, they can be cooked using this oven

Ideal for small starter dishes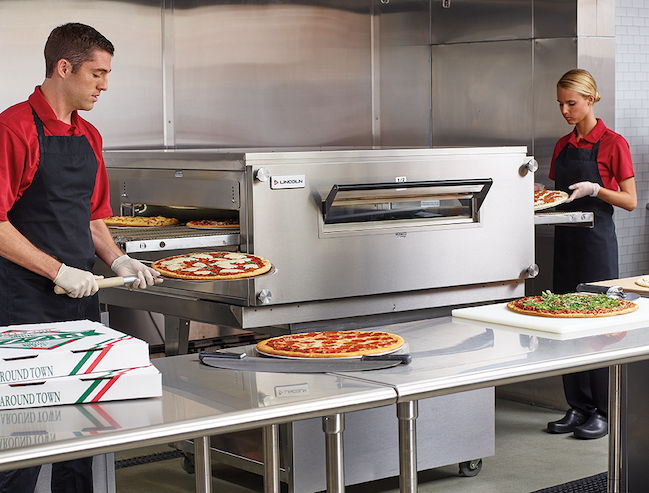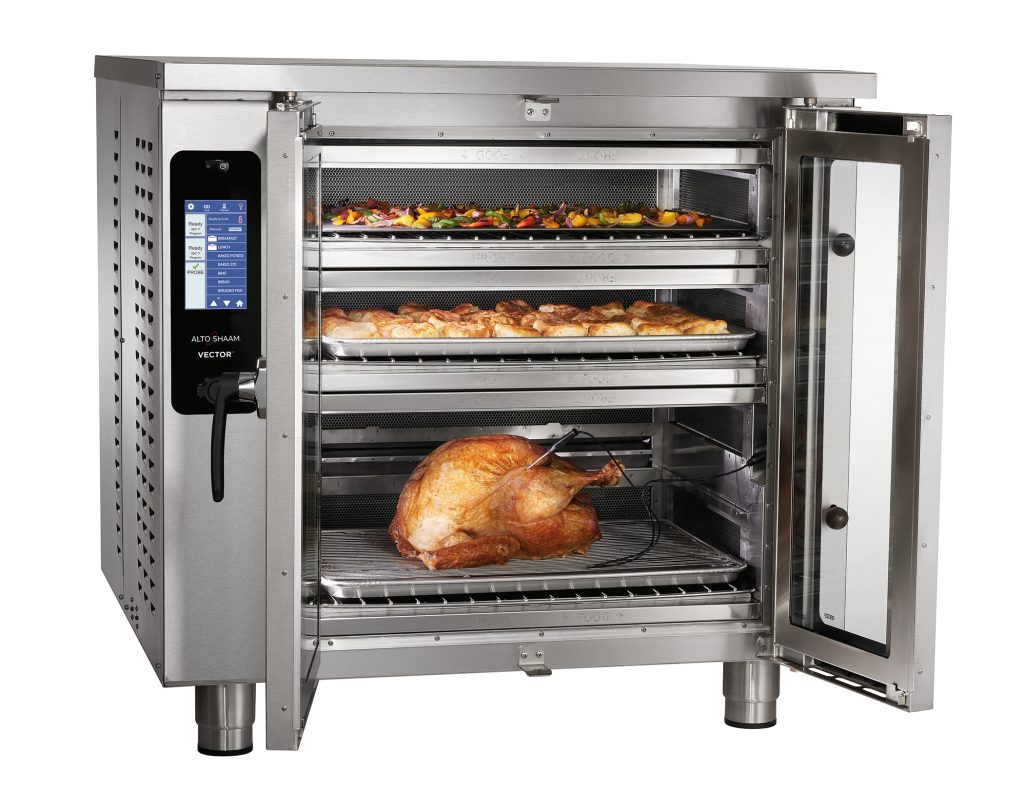 Cook & Hold Oven
Experience the benefits of traditional cooking

Create delightful, tender meats

Cooks slowly and lightly

Long hold times available, meaning you can cook far in advance of restaurant service

Ideal for all-day carveries
Which oven is the best for commercial use?
The best oven for commercial use varies entirely on the goal of your business. However, combination ovens, commonly known as combi ovens, are extremely popular. Their popularity is not without good reason.
Combi ovens are incredibly versatile, offering an impressive range of cooking techniques in one convenient machine. They are both safe, stylish yet economical. In addition, Combi ovens are easier to use, the perfect choice for small businesses with teams who might be new to the industry.
They heat up quickly and efficiently and can reach high temperatures. This means you can cook meals promptly without compromising on taste or texture. As a result, your customers will be happy and more likely to return.
In addition, combi ovens offer the opportunity to pre-programme settings. So, if you are creating the perfect choux pastry, you can simply push the button and let the combi oven do the rest.
You can also take control of precise cooking techniques using just one piece of machinery. Choose from steaming, roasting, braising, smoking and baking. Achieve the power of creative culinary freedom whilst saving essential space in your kitchen.
Enjoy the flexibility of 6-10 stovetop griddles to allow you to cook multiple dishes at once. Lastly, combi ovens add moisture to your ingredients during the cooking process. This extra water will encourage the meat's yield rate to grow. Therefore, a combi oven is a convenient, profitable choice.
How much does a commercial oven cost?
The cost of your commercial oven is subject to the type of oven you select. The larger and more substantial the oven design, the higher the price. You should expect to spend a minimum of £1,500. However, this can range to over £10,000 depending on the amount of storage space you require.
You must always measure your kitchen space prior to ordering to check that the oven will fit when delivered. Most ovens will come with warranties meaning if you encounter any issues within the first 1-3 years of ownership, these will be fixed free of charge.
Why is oven maintenance important?
In busy commercial kitchens, oven maintenance is key to achieving high-quality food consistently. A dirty oven is a health and safety hazard. Food debris and spillages inside the oven cavity will burn each time the oven is used. This creates a large amount of fumes and smoke.
This is why it is essential to invest in proficient kitchen extraction systems. These help to safely remove harmful gases and create a healthy workplace environment.
In addition, poor oven hygiene can affect the flavour and quality of the food you serve. Food grime and waste from previous dishes can contaminate the next ingredients you cook. This could result in creating meals that are not appropriate to serve.
A greasy oven will take significantly longer to heat up and maintain your desired temperature. This will cost more to run and is less energy efficient. Avoid wasting time and money by training your staff regularly in health and safety standards. Provide them with the best oven cleaning equipment to easily remove dirt and grime daily.
A commercial oven is a great investment that you want to last. The build-up of dirt and grease means your oven has to work harder to function properly. Because of this, it may wear out far quicker than usual. By cleaning your oven regularly, you will increase its longevity.
We also recommend that you service your oven quarterly to ensure everything is running smoothly.